The Sound of Madness is the thirteenth and final episode from Season 1 of the animated series, Highlander.
Synopsis
Kortan decides to challenge Quentin aboard a rusty ship in a desert. In the middle of the deadly duel, Quentin temporarily experiences a huge disadvantage as he loses his eyesight. The fight becomes more arduous given Quentin's inability to see and Kortan's deceptive strategies. Each duelist is intent in winning this perilous and deadly battle.
Heroes
Quentin MacLeod
Don Vincente Marino Ramirez
Clyde
Gaul
Allies
Connor MacLeod (in a flashback)
Mangus (in a flashback)
Villains
v - e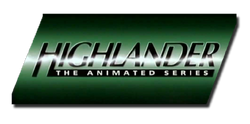 Characters
Heroes: Quentin MacLeod | Don Vincente Marino Ramírez | Clyde | Sarah MacLeod | Gaul
Villains: Kortan | Arak | Malone | Gorth | Asklepios | Valka | Kirk | Mohar
Jettators: Mangus | Yoshoda | Stevenson | Ilrick | Erol | Lanceley | Olak | Volta | Eva | Orane | Fredrickson | Matsuda | Mahata | Brana | Cornell | Sahevy | Shepherd | Prometheus | Emerson
Creatures: Anomas | Gavors | Grans | Snow Spider | Thorn Pods | Gorans
Locations
The Old Dam | Underwater City | Flatten City / Central Railway Station | Cape Hearth | Saragota | Spaceport | Entomology Laboratory | Babylon Motion Picture Studio
Ad blocker interference detected!
Wikia is a free-to-use site that makes money from advertising. We have a modified experience for viewers using ad blockers

Wikia is not accessible if you've made further modifications. Remove the custom ad blocker rule(s) and the page will load as expected.