A Taste of Betrayal is the second episode from Season 1 of the animated series, Highlander.
Synopsis
Ramirez takes Quentin to meet Stevenson, a once daring and powerful Jettator who built a dam before the Great Catastrophe that generates a special kind of energy called electricity. However, Stevenson is nowhere to be found as his mysterious ferryman continues to lead Quentin and Ramirez into a trap.
Heroes
Quentin MacLeod
Don Vincente Marino Ramirez
Clyde
Gaul
Allies
Aria
Stevenson (a current, but former Jettator/now deceased)
Villains
v - e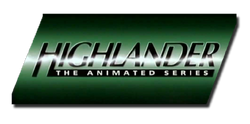 Characters
Heroes: Quentin MacLeod | Don Vincente Marino Ramírez | Clyde | Sarah MacLeod | Gaul
Villains: Kortan | Arak | Malone | Gorth | Asklepios | Valka | Kirk | Mohar
Jettators: Mangus | Yoshoda | Stevenson | Ilrick | Erol | Lanceley | Olak | Volta | Eva | Orane | Fredrickson | Matsuda | Mahata | Brana | Cornell | Sahevy | Shepherd | Prometheus | Emerson
Creatures: Anomas | Gavors | Grans | Snow Spider | Thorn Pods | Gorans
Locations
The Old Dam | Underwater City | Flatten City / Central Railway Station | Cape Hearth | Saragota | Spaceport | Entomology Laboratory | Babylon Motion Picture Studio
Ad blocker interference detected!
Wikia is a free-to-use site that makes money from advertising. We have a modified experience for viewers using ad blockers

Wikia is not accessible if you've made further modifications. Remove the custom ad blocker rule(s) and the page will load as expected.